Contemporary Erotica Titles
Guilty Pleasures
NAL Trade

A book of naughty novellas highlighting the bawdy adventures in The Channel of some of the secondary characters from past Pleasures novels.

Passionate Pleasures
NAL Trade

Some think librarians are stuffy, narrow-minded prudes-but that's not true of Kathryn St. John. She runs Egret Point's library and is very involved in her community, even down to keeping them up with the latest trends. One major trend she turned the local ladies on to is the interactive network The Channel. It's there that Kathryn extends her occupational passions into the bedroom by playing out her favorite pieces of medieval English literature. Kathryn is quite satisfied with the princes, musketeers, and highwaymen her personas seduce in The Channel. But her seductions spill out into the real world and reach Timothy Blair, new to Egret Point. He wants to satiate both of their desires, but how can he possibly compete with fantasy lovers? That is unless he can create a wicked plot twist that even Kathryn couldn't think up in her wildest dreams...

Dangerous Pleasures
NAL Trade

Annie Miller, a widow with five kids, didn't have any fantasies. She didn't have the time or the money. But then her younger sister enters her in a contest. Annie wins, and suddenly her life falls into place. Whisked off to The Spa at Egret Pointe Annie discovers The Channel for the first time. And after her week of pampering she's offered a job at the spa. Wanting to have the wherewithall to help her children have a few small luxuries Annie finds she has a talent for business, and climbing the corporate ladder is more fun than she ever anticipated. But Dangerous Pleasures may cost Annie everything she holds dear. Still, it is really all for the children. Isn't it?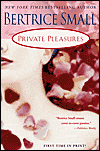 Private Pleasures
NAL Trade

Nora Buckley's worst nightmare has just come true. After years of being a devoted, dutiful housewife, she's found out her husband is leaving her for a younger woman. Her only comfort comes from her friends--the women of Ansley Court, who meet every Monday morning for coffee and gossip. Seeing Nora's desperation, her friends decide it's time to let her in on their delicious and dirty little secret. It's called The Channel . . . and it lets every woman unleash passions beyond her wildest dreams. Suddenly Nora is living out her most intimate and sensuous fantasies--and before long, she realizes she can have everything she ever wanted . . .

Forbidden Pleasures
Penguin Group (USA)

Replacing a social life with a career, bestselling romance novelist Emily Shann has gotten by on a vivid imagination, hiding a shocking secret that not even her publisher suspects -- until she's asked to write something that's hotter, sexier, more explicit, and true to life. Emily has nowhere to turn for advice except to her new editor -- tall, dark, and handsome Michael Devlin -- who's already stirring her fantasies. So is The Channel -- a secret network designed to tutor women in the art of sensual delight. Now more willing than ever before, she must convince Devlin to teach her everything he knows...if her literary fantasies are finally to become unedited flesh-and-blood reality.

Sudden Pleasures
NAL Trade

Ashley Kimbrough has everything a woman could want. Not only is she wealthy and successful, she has a more than satisfying sex life in The Channel, a secret network that allows women to live out their wildest fantasies. But if she doesn't find herself a husband she could be in danger of losing it all.

Then multi-millionaire Ryan Mulcahy enters Ashley's life. With that Celtic warrior's body and drop-dead gorgeous face, he makes her fantasies run wild. Although their marriage is one of convenience, Ashley is starting to wonder whether she can use everything she learned from The Channel on her unsuspecting husband.