Single Titles by Bertrice Small
The Kadin

Janet Leslie is kidnapped, and sold as a slave. Her purchaser? Hadji Bey, the Agha Kislar of the sultan. Known now as Cyra Hafise, she becomes the mother of a future sultan, and a power behind the throne. When her son's favorite tries to poison her, Cyra fakes her own death, returning to Scotland, and the other son long ago smuggled from Turkey in order to save him from death. Back in Scotland a new life, and a new set of adventures, await her. 15th & 16th C. Turkey and Scotland.

Click on the book cover to buy this book at Barnes & Noble.

Love Wild and Fair

Cyra's beautiful great-granddaughter, Cat Leslie, is happily married to her Patrick until the king's lust invades their life. Her marriage destroyed, Cat falls in love with Francis Stewart-Hepburn, the dashing Earl of Bothwell. Thwarted in their marriages plans by their jealous king, both flee abroad. Love finally triumphs when Cat, having experienced her own sensual adventure in the Ottoman Empire, is reunited with her beloved Bothwell. 16th C. Scotland and Turkey.

Click on the book cover to buy this book at Barnes & Noble.

Adora
Ballantine Books

Daughter of the Emperor of Byzantium, Adora captivated Prince Murad the day he saw her in a convent garden. But his princess was destined to become a political pawn. Orkhan, the Grande Turk, claims her. While destiny carries them to other lands, and other lovers, Murad and Adora are meant only for each other. 14th C. Byzantium and Turkey.

To order, go to www.romanceclassics.com.

Unconquered
Ballantine Books

Miranda is forced to wed her cousin, Jared Dunham, to keep her beloved home, Wyndsong. She soon discovers he is the only man for her, but the War of 1812 is brewing. The American Dunhams find themselves involved in a behind-the-scenes attempt to bring peace. 19th C. America and Europe.

Click on the book cover to buy this book at Barnes & Noble.

Beloved
Ballantine Books

Zenobia, Queen of Palmyra, descended from Cleopatra. At birth her stars proclaim she will be lucky in both love and war. When her husband is murdered, Zenobia finds herself falling in love with Rome's envoy, Marcus Alexander Britainus. Believing Marcus has deserted her, Zenobia rebels against Rome. The Emperor Aurelian comes to Palmyra to make the queen his imperial captive, but even the might of Rome cannot withstand the power of love between Zenobia and Marcus. 3rd C. Ancient World.

Click on the book cover to buy this book at Barnes & Noble.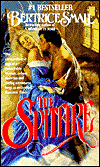 The Spitfire
Ballantine Books

Arabella Grey is kidnapped from the church on her wedding day, even before she can speak her vows with Sir Japer Keane. Caught up in an act of vengeance, the hot-tempered Arabella finds herself falling more and more in love with her captor, Tavis Stewart, the Earl of Dunmore. 15 C. Scotland and France.

Click on the book cover to buy this book at Barnes & Noble.

A Moment in Time
Ballantine Books

Wynne of Gwernach has no dreams of marriage until Madoc, Prince of Powys, enters her life. He knows her reluctance to marry is the legacy of another life, in another time and place. What unfinished destiny lies between them? And will they fulfill it? 11th C. Wales.

Click on the book cover to buy this book at Barnes & Noble.

To Love Again
Ballantine Books

Cailin Drusus escapes a plot that destroys her family. She flees to her Celtic chieftain grandfather only to be given in marriage to Wulf Ironfist, a Saxon warrior. But Cailin's destiny takes her from Wulf, and into the arms of Byzantium's most powerful general, Flavius Asper. Can Wulf find his wife? Can he reclaim her? And will she leave her life of luxury to return to a savage land? 5th C. Britain and Byzantium.

Click on the book cover to buy this book at Barnes & Noble.

Enchantress Mine
NAL Signet

From the pleasure domes of Constantinople, to the barbaric pomp of King Malcolm of Scotland's court, this is the magical tale of Mairin of Aelfleah, called "Enchantress" by the men who love her. Basil, Prince of Byzantium, who taught her passion's tender secrets; Josselin de Combourg, gallant knight of William the Conqueror's army; and Eric Longsword, the Viking, whose tragic love for Mairin can never be fulfilled. 11th C. England, Byzantium and Scotland.

Click on the book cover to buy this book at Barnes & Noble.

Blaze Wyndham
NAL Signet

Lovely Blaze and her sisters are the daughters of an impoverished nobleman. They have no hope of marriage until the gallant Earl of Langford, Edmund Wyndham, enters their lives, taking Blaze for his wife, and generously dowering her sisters. But death takes kindly Edmund from his young wife. She flees her grief at the court of King Henry VIII, only to become his carnal prey. Rescued by an audacious lie told the king by her late husband's nephew, Tony, who has always secretly loved her, Blaze finds true happiness once again. 16th C. England.

Click on the book cover to buy this book at Barnes & Noble.

Love Remember Me
Ballantine Books

Nyssa Wyndham, the beautiful daughter of Blaze, goes to court of an aging King Henry VIII to serve the new queen, Anna of Cleves. But Henry dislikes his politically correct bride, and seeks to rid himself of her. In his quest for another wife, his roving eye falls upon Nyssa. But there are those in power seeking to thwart the king's lust. Nyssa awakens in the arms of Varien de Winter, a notorious rake, her virtue seemingly ruined. A disappointed and outraged king orders them wed at once! Love, however, does conquer all in this case. 16th C. England.

Click on the book cover to buy this book at Barnes & Noble.

The Love Slave
Ballantine Books

There can be but one heiress to Ben MacDui, and so second born twin Regan MacDuff is shipped off to a convent. But the abbess is selling beautiful novices into slavery. Regan becomes Zaynab, trained by Karim al Malina to be the Caliph of al-Andalus's love slave. 10th C. Moorish Spain.

Click on the book cover to buy this book at Barnes & Noble.

Hellion
Ballantine Books

The story of Isabelle of Langston and Hugh Fauconier, married by order of King Henry I. Called Belle from Hell by her serfs, and "Ma Belle Douce," or Sweet Belle, by her plain-faced husband, these two unlikely lovers find true happiness until a beautiful Breton sorceress steals Hugh away, and the fiery-tempered Belle disguises herself as a boy to seek out her beloved husband, only to be discovered by the sorceress's wickedly handsome brother, a man with an unsatiable sexual appetite, and a reputation for magic. Can Belle bring Hugh to his senses again, and break the spell? Does she even want to any longer? 12th C. England and Brittany.

Click on the book cover to buy this book at Barnes & Noble.

Betrayed
Ballantine Books

When Fiona Hay is caught stealing the laird of Loch Brae's cattle, she makes a dangerous bargain with Angus Gordon. She will become his mistress if he will dower her orphaned sisters. Her pact with the laird takes her to the court of James I where she catches the eye of Colin MacDonald, a charming but ruthless highlander, who kidnaps Fiona and takes her north to marry. But Colin doesn't know Fiona was deliberately put in his path by the king in order to spy on the lord of the Isles. Fiona now finds herself town between two men. Her husband, and her former lover. 15th C. Scotland.

Click on the book cover to buy this book at Barnes & Noble.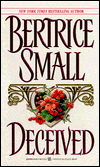 Deceived
Kensington-Zebra

Aurora Kimberly is not one bit interested in becoming a duchess, yet it would seem that is the future her late father planned for her. The marriage contract, however, calls for a Charlotte Kimberly to wed with Valerian Hawkesworth, the Duke of Farminster. As both Aurora, and her stepsister, Calandara, were christened with the first name of Charlotte, and as the duke has never seen his intended, the girls switch places, for Cally very much desires to be a duchess. But you should be careful what you wish, as Aurora and Cally soon learn; and life is never quite as simple as it seems. 18th C. England and Caribbean.

Click on the book cover to buy this book at Barnes & Noble.

The Innocent
Ballantine Books

The year is 1154, and Eleanore de Montfort is preparing to take her final vows as a nun when King Stephen intervenes. Eleanore, known as Elf, has inherited an estate close to the Welsh border too strategic to be left to the management of her religious order. The king decrees that Elf wed one of his knights, Ranulf de Glandeville. Older, battle-hardened, and worldly, Ranulf is enchanted with his ingenuous bride. He struggles to win her love. But their love is not secure from the wicked schemes of an enemy who hates Eleanore, and will seek to destroy the innocent, putting Elf's life in jeopardy, and her faith in love to its greatest test.

Click on the book cover to buy this book at Barnes & Noble.

A Memory of Love
Ballantine/Fawcett

Rhonwyn uerch Llywelyn is the bastard daughter of Llywelyn ap Gruffydd, the last great prince of the Welsh. Ignored, and raised to be more lad than lass, she is unprepared for the marriage her father arranges. But as honor and duty come first with Rhonwyn, she weds Lord Edward, and then follows her husband on crusade, only to be caught in a skirmish between Crusader and Saracen. Carried off to the caliphate of Cinnebar, Rhonwyn finds herself in the arms of its ruler, Rashid al Ahmet. It is he who teaches her to revel in pleasure, and to give it as well. Yet Rhonwyn desires to return to Edward. How she does makes for an exciting tale, but the story isn't over yet. Back in England Rhonwyn finds Edward remarried, and the king, to avoid insulting the Welsh, orders Rhonwyn to wed Edward's arrogant cousin, Rafe. Will there be a happily ever after?

Click on the book cover to buy this book at Barnes & Noble.


The Duchess
Ballantine Books

Set against the noble splendor of Georgian England is the story of Allegra Morgan, the heiress to the richest man in England, and Quinton Hunter, the duke of Sedgwick, a man with the bluest blood in the land, but with little else to offer a wife except his grand title. Both are determined not to fall in love, but when the terrors of France's revolution hit close to home, it is their undeniable love for each other that saves them, and gives them the happiest of ever afters.

Click on the book cover to buy this book at Barnes & Noble.

The Dragon Lord's Daughters
Kensington/Brava

The Dragon Lord's daughters were descended from the great Arthur himself. Averil, the eldest, was the most beautiful. She fully intended to barter her beauty in marriage to a great name. Fate decided otherwise.
Maia, the second daughter, fell in love with the mysterious descendant of Lancelot du Lac and the Lady of the Lake. Though he longed to be fully human, Emrys Llyn lived in a world of magic. Only the pure love of an innocent could save him.
Junia, the Lord's youngest daughter, fell in love with the son of her father's bitterest enemy. But even their love could not end the feud, and Junia thought to never love again. Until she met William le Clare, who had believed that he would never love again, either.
This is a tale of adventure, magic and romance which is bound to warm a cold winter's night.

Click on the book cover to buy this book at Barnes & Noble.