Skye's Legacy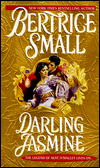 Darling Jasmine
Book I/Kensington-Zebra

Once James Leslie and Jasmine de Marisco had shared a night of unforgettable passion; but now Jasmine has refused to be forced into marriage with the handsome Earl of Glenkirk, and flees with her children to France. But Jemmie Leslie will not be denied the woman he loves, and vows to win the elusive Jasmine back. To do so he must outwit a very dangerous enemy who also desires Jasmine, her wealth, and the power her little son, a royal bastard, will give him over King James.

Click on the book cover to buy this book at Barnes & Noble.

Bedazzled
Book II/Kensington-Zebra

Jasmine's eldest daughter, Lady India Lindley, is a prideful beauty accustomed to having her own way. Despite her parents' disapproval, she defiantly elopes with the earl of Oxton's heir. But the ship upon which the young couple are traveling is taken by Barbary pirates and the proud beauty finds herself slave to Caynan Reis, the dey of El Dinut, a mysterious man with a secret past. India doesn't expect to fall in love with this infuriating man whose will is as strong as hers, but she does. Then a revolt within the ranks of the Janissary Corps tears the lovers apart. Will they find each other again, and live happily ever after?


Besieged
Book III/Kensington-Zebra

Jasmine's second daughter, Lady Fortune Lindley, leaves Scotland to return to her birthplace, a vast Ulster estate that she will inherit only if she weds an Irish Protestant. Fortune has agreed to consider a match with the aristocratic William Devers, a man suited to her wealth, her religion and her status. but it is his disinherited elder Catholic half-brother, Kiernan Devers, who steals Fortune's heart, driving William to a murderous fury. While Fortune and Kiernan's love grows, jealousy and intolerance lead to an unthinkable tragedy, and a destiny that will test Fortune's will to survive in a struggle to claim a new land, a new legacy, and the only love she'll ever want.

Click on the book cover to buy this book at Barnes & Noble.


Intrigued
Book IV/Kensington-Zebra

Set in 17th C. England and France, this is the tale of Skye's great-granddaughter, Lady Autumn Rose Leslie, Jasmine's youngest child. Plunged into a heady world of court intrigue, it is a face from Autumn's adventurous past who is determined to become her passionate and only destiny.

Click on the book cover at right to buy this book at Barnes & Noble. The image at left depics the book's inside cover.

Just Beyond Tomorrow
Book V/
Kensington-Zebra
Patrick Leslie has acquired a wife in a most unusual manner, and Flanna Brodie is not at all like any other lady of Glenkirk. Her misguided desire to be as good as her predecessors leads her into opposition with her husband. Now Flanna and Patrick must chose between wounded pride and the promise of a lasting love both desperately yearn for . . .
Click on the book cover to buy this book at Barnes & Noble.

Vixens
Book VI/Kensington/Brava

Vixens is the tale of three of Skye O'Malley's great-great-granddaughters. Fancy Devers, Fortune and Kieran's youngest child, who arrives in England surrounded by scandal and mystery. Diana Leslie, Patrick and Flanna's daughter, who finds herself caught between identical twin brothers. And Cynara Stuart, Charlie, the not-so-royal Stuart's last child; a headstrong girl who falls in love with the wrong man. Or is he? These three beauties, first cousins, set the court of King Charles II on its ear in their determination to find their happily-ever-afters.