4 authors, 4 different hot, hot, hot stories!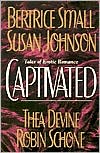 Captivated
Kensington/Brava
In
ECSTASY
Dagon, Prince of Aramis, has been betrayed by his twin brother, and sold into slavery. He vowed to escape his tortured life, and seek revenge...until he was brought to Kava. Now Dagon is under the rapturous spell of the women who rule this kingdom and its queen, the irresistible Kelida, whose wickedly lascivious games leave him begging for more.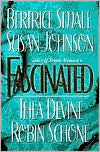 Fascinated
Kensington/Brava

In MASTERING LADY LUCINDA, the members of an underground club, The Devil's Disciples, are prepared to give Lady Lucinda Harrington an unforgettable lesson in seduction - but it is the gentlemen, and not Lucinda, who are left begging for mercy.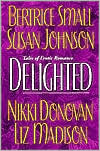 Delighted
Kensington/Brava

Offers THE AWAKENING, the tale of Marguerite Abbott, the most enchanting courtesan at the most elegant brothel in Paris, who has lost her heart to no man - until a charming visitor from New Orleans teaches her the true meaning of Eros' delights.

I Love Rogues
Kensington/Brava

ZULEIKA AND THE BARBARIAN is a tale not found in the Arabian Nights, in which the princess of Dariyabar offers herself to Amir Khan to save her country. Intrigued and fascinated by this outspoken, beautiful creature who seems so willing to be his bride, the Khan is torn between his white hot desire for Zuleika and his protective higher nature. And with each night of seduction and surrender, the barbarian lord finds himself succumbing to love's decisive victory......